infinite ∞ possibilities and one unique point · of existence
artists

Studio Renn


art + exhibition

13 – 21st July, 2019 | Kolkata Centre for Creativity | 11 am - 7 pm


event conceptualization and installations

The Space At 9/2

The exhibit is designed as a site for deep and authentic integration — a living, embodied site where precious wearable forms, art (movement, music) and processful thought, can meet and manifest the world of Renn.

mood
Meta – Concepts
a poem by Robert Barry

It is always changing.
It has order.
It doesn't have a specific place.
Its boundaries are not fixed.
It affects other things.
It may be accessible but go unnoticed.
Part of it may also be part of something else.
Some of it is familiar.
Some of it is strange.
Knowing of it changes everything.
about studio renn
Studio Renn makes fine jewelry that are works of art; much like the artistic inspirations and journeys that compels them to express and create.





Founded by Rahul Jhaveri, each piece designed at Studio Renn has its own narrative and is crafted for the connoisseur who appreciates the fine balance between form and function and is interested in the practical magic of how seemingly disparate parts become a whole.


purpose

To find creativity and peace and yet be curious, skillful and have childlike wonder at this incredible manifest universe. You have to have an internal necessity to become creators of magic - to see it come alive.

The most revolutionary thing a person can do is be open to change.


narrative
The exhibit is designed as a site for deep and authentic integration — A living, embodied site where precious, wearable forms; art (movement, music); and processful thought can meet and manifest the world of Renn.

There is method in the madness; what would at first glance appear to be a bizarre, superfluous and random arrangement, is meant for you to navigate through the artistic processes of Renn. It speaks of the bodily realities of working at the studio, and pulls back the curtain on the artistic journey itself.


– exhibit components –
space design
Depending on where you stand, determines what you see

The space is designed to mimic the philosophical approach of progressing from darkness to light; mundane order to beautiful randomness; presumptive to provocative — an invitation to explore with viewing strategies.

Your standpoint, determines where you stand — literally and figuratively.

The heart of the exhibit is the structure (ironically) that is set in a fluid format, whose shapes echo the relationship between the artistic processes involved in arriving at the pieces of jewelry. They're strangely beautiful and are meant to be viewed across multiple dimensions of height, time of day and mind space.

Serendipitously, the arrangement of the key cases and the flow of the structure itself, embody the idea of how seemingly disparate parts become a whole.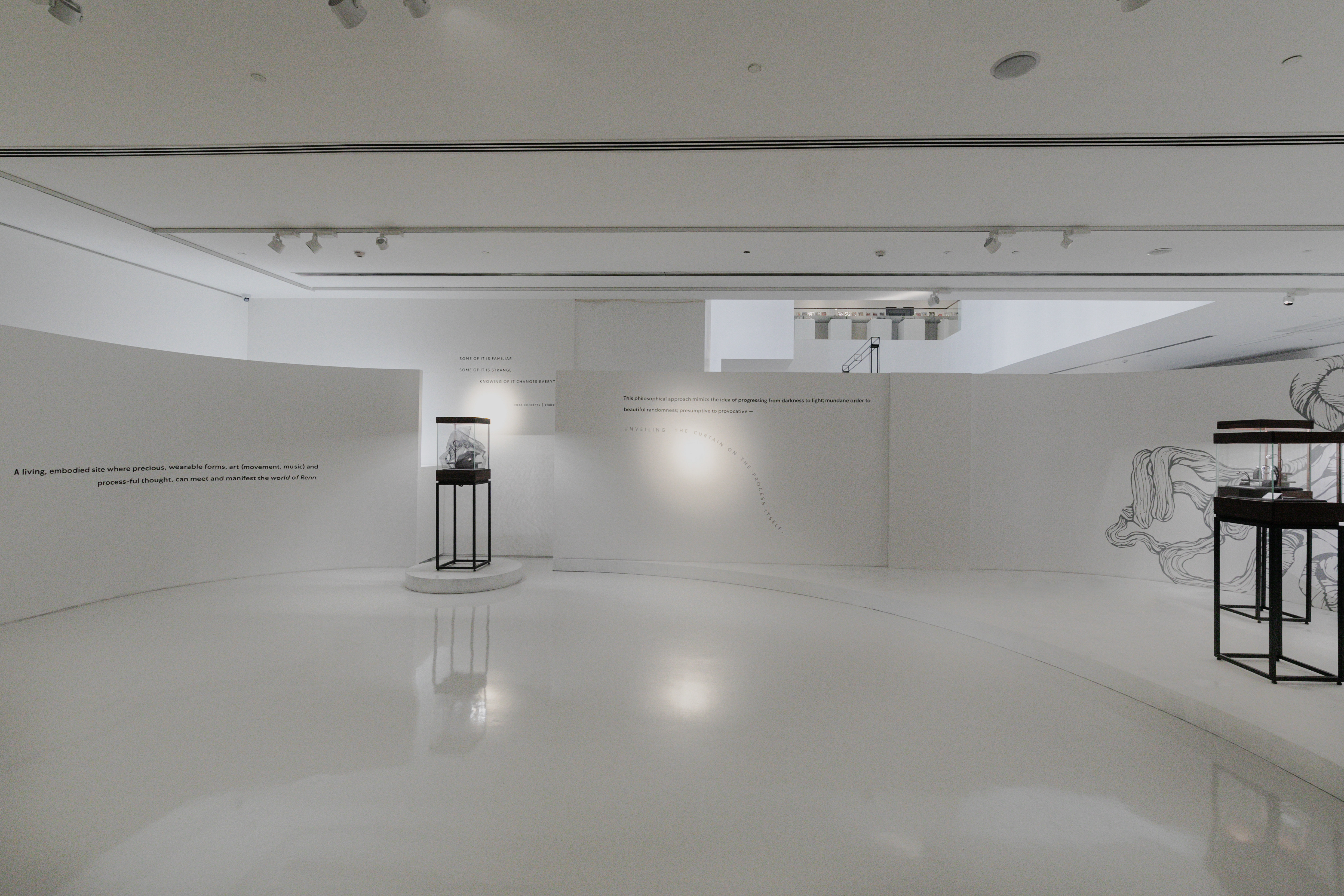 conceptualized photoshoot
Juxtaposing against fissures and crannies of the human form, visualised as indefinite embodiments

Photography by Rema Chaudhary, Styling & Direction by The Space At 9/2.


OPENING ACT – movement art
A contemporary dance performance that illustrated our narrative

Dance is happening, rising and falling in each of us - symbolised by the dancing bodies the audience witnesses. This dance of constant creation and dissolution is both the practise and process of art making, as is the bringing to life of the pieces on display. They are manifest but the journey doesn't end here. The works have an effect - (both dance and jewellery) on a viewer and are given meaning
by this act of witnessing, owning and/or carrying onward - either as the embodied experience we create or physically as a new part of them that they acquired here.
Somehow the process - vision, love, labour, dreams and intuition that went into creating these pieces, lives on within them.

Performance by Citizens of Stage Co. Lab, Choreographed by Diya Naidu.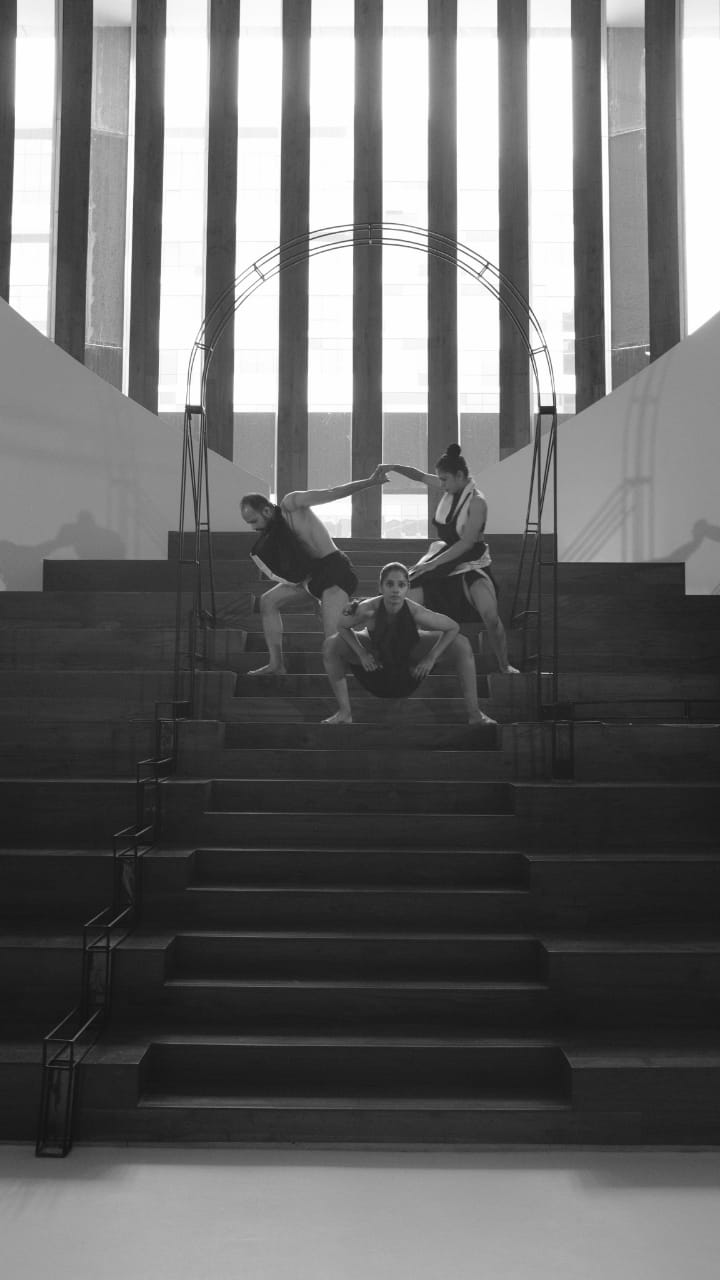 visual identity design
Designed to allow an expedition of sorts into the minds of the creators and visitors themselves

A way to marry the conceptual, seeds of ideas with the physical.
Meta - Concepts should be considered as a summary of the journey to creation - thoughts are as much a part of work as the entities themselves. The process is to not be hidden but to remain a prominent part of the experience. This is embodied through the beauty of how –



















in the mystifying grooves and
crevices of the human body.

outreach programmes
Engagements to continue the conversation

– A musical evening with Pancham Nishad, with Prasad Padhye on the tabla and Mehtab Ali on the sitar
– Artist walkthrough and debate with veteran Swarup Dutta and emerging artist Surabhi Chowdhary